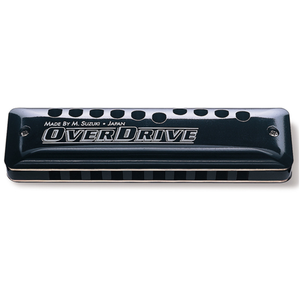 Unique 10H harmonica
It is a unique model which makes it possible to have a clear sound by plugging the sound hole open in the cover when over blowing and overdrawing.
The sound of the MR-300 comes out from the sound hole independently by the partition inside the cover. For this reason, the original sound of the reed is transmitted from the sound hole to the front without waste. The cover has been replaced by the "hand" of performer. It can be felt that the tone changes more than ever by hand vibrato. In the playing method of the 10-hole harmonica, there are techniques called "over blow" and "overdraw" that raises by semitone. This advanced method has been said to be difficult to obtain loud sound, but the MR-300 by blocking the holes on the front and back, clearer and louder sound can be obtained than before. 

Specifications 
Range
10-holes; 20 notes
Material
Special resin cover
Special resin body
Key
G・A・Bb・C・D・E・F
Dimension
103 x 28  x20mm
Weight
82g
Accessory
ABS case